Tracking down "little blue lines" on a map hasn't proved fruitful of late, given that which was once blue … is now overly warm or dried up completely.
Having come over the hill from Santa Rosa last week and skirting the edge of Lake Berryessa, I noted a lot more bank was visible, yet Putah Creek still had ample flow despite scarring from the Monticello Fire of early June.
Olives, Pomegranates, and walnuts are compelling, but I'd played the  "Domestic Goddess" for most of the last month – it was high time aprons and fruit Pectin played second fiddle to a wisp of fiberglass waved in anger.
Last year I had fished Putah Creek from above, through the UC Davis campus and south of Interstate 80, and while access was plentiful due to sprawling campus, the water was sheathed in oak woodland which alternated with brambles, thickets, plowed fields, and blackberry bushes. So parking nearby was easy – yet achieving the water without injury proved much less so …
Wading being a mirror of the terrestrial experience – given the perils of interlocking wader-killing underwater limbs, slick clay patches, and rotting vegetation that appears firm until it isn't.
Opaque olive water may be off-putting to the trout crowd, but it's a welcome sight to us "frog water" aficionados that recognize a combination of tough access, obvious bouquet, and discolored water, are hallmarks of the "new Wilderness" … ignored by fishermen, scorned by dog walkers and joggers, and home to unknown fisheries and homeless encampments.
… and while everyone else roars past oblivious to the dark line of trees hiding the creek from traffic, it's not without its moments ..
… and even if the bulk of its inhabitants were of the five-inch class, there were indications that an occasional resident reached larger dimensions. Naturally, they would only make an appearance when sliding across the slick clay yielded a tree branch through a wader leg – as only outright suffering makes wary fish less so.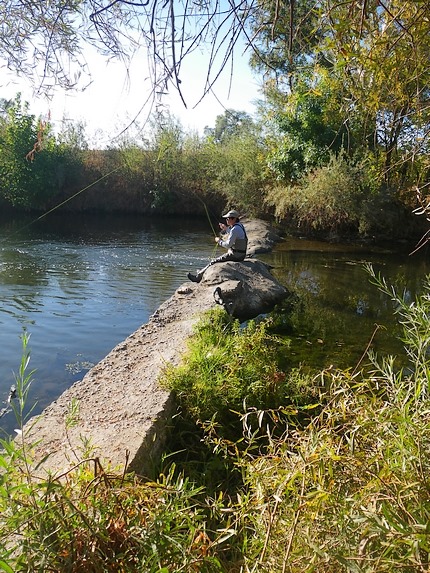 A point debated by my fishing buddy, whose obvious delight at basking in the sun while monopolizing the only real estate permitting a free and unfettered back cast, overcame his lust for larger fish.
After clawing my way through alders, clinging underbrush, and gingerly negotiating a homeless bunker complex, the idea of resting without peril next to the babbling brook was most attractive.