Having just finished the National Wildlife Federation's report on global warming, and how half of our cold water fisheries will vanish in the next eighty years, I was content that the conservation issue was destined to be hot topic for the next several decades.
If it matters, I vote for smallmouth bass as the neo-nobility …
At the same time I was equally determined to find out why my lukewarm fishery was chosen to be extincted in the next eighty minutes, and without benefit of additional discussion.
So I checked the upper river …
Plenty of water, nothing appears amiss other than the constant roar of gunfire from the morning's dove hunt. Both doves and I were content to stay on the edge of the highway and watch – while hunters blasted jays, sparrows, and starlings, as they were all "gray" and sporting a long tail, and therefore fair game.
Then I checked the park area, two miles below the dam and some 25 miles further downstream …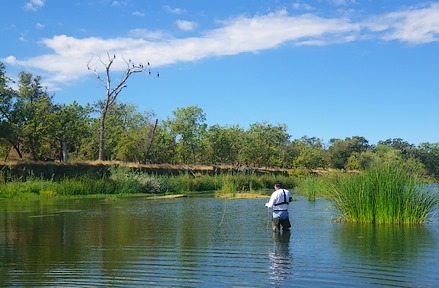 … and even that was lipping full of water, fish, fellow anglers, and even cormorants.
Doesn't take a rocket scientist to realize I've been victimized by canal diversion, rather than any drought related reduced dam flow. The water is diverted below the dam, sent through assorted farms, rice fields, golf courses, and tomato fields, then restored to the channel about five miles below the newly dewatered Dead Zone…
The same zone that used to hold all the really big fish and deep water, and now holds only big rocks and deep dust.
… and explains why repeated exposure to the water downstream makes me want to scratch body parts. It's likely to have been treated with fertilizers, anti-fungal agents, and warmed to lethal temperatures as it drains all that boron, selenium and arsenic out of your organic veggies and into that dogleg Par 5, behind the club house.
If a Big Mac and fries is characterized by the sudden blockage and subsequent fatal aneurism, my health-conscious salad having been strained through a couple of fairways and a tomato plot suggests my doctor is advocating a slow, Zombie-esque  demise.
Which isn't the re-invigoration he describes will result from distancing myself from the fatty and caloric, but with all the maladies I'll be contracting from local lettuce it's likely to make his remaining years Golden as Hell …