My reaction was to slide under the desk and start looking for all that 9mm I had squirreled away for the Zombie Apocalypse.  At this late stage, a life spent torturing fish (and worse, documenting same) have earned me a rarified spot right up there with Osama Bin Laden and Uncle Adolph.
As scientists have been telling us for many years – fish do feel pain when hooked, only now they've discovered the worst, that they can remember who done this to them and can recognize human faces from underwater …
(Queue the Jaws soundtrack …)
"… have impressive pattern discrimination abilities, but also provides evidence that a vertebrate lacking a neocortex and without an evolutionary prerogative to discriminate human faces, can nonetheless do so to a high degree of accuracy."
Jesus. We're screwed. The only truly good news is that fish don't have either Hellfire missiles or drones, so fleeing the parking lot swathed in Hoodie and sunglasses may get you to the Interstate.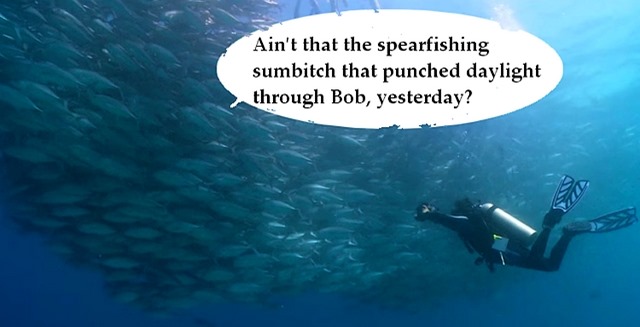 It's tough to acknowledge that PETA was right all along, and while we'll walk soft and sheepishly avoid their gaze, their smugness will evaporate when the first near-sighted Salmon detonates itself in the reefer of that Whole Foods delivery truck on the Causeway.
Fly tiers will be the first culled given that Chickens are looking to settle scores for a half-century of heavy handed anglers wrenching hackle off their backside.
"Chickens (Gallus gallus domesticus)19 and jungle crows (Corvus macrorhynchos)23 can also discriminate pictures of human faces"
The upside being all them stuffy "featherwing Salmon guys" are even deeper in the Hurt Locker.