I've always been fascinated how physics, logic, and religion alternately hold sway with anglers, and how quickly we drop one to seek a convenient explanation from the others.
Given the fervor of our practitioners, fishing may also hold a goodly number of lay theologians; those whose use of deities are limited to epithets, and those who couldn't endure the restrictions of religious study, and opted for a sociology major instead.
Only historians, theologians,  and anglers discuss derivations of ancient events and derive modern theories that explain the unexplainable – and like religion and history, most attempts at learned angling discussion flare white-hot, as our ranks are home to   half wits, zealots, and the unyielding.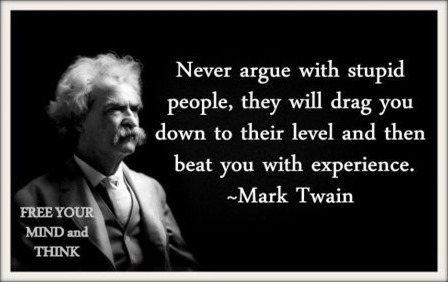 Bass anglers and fly fishermen are the worst of the lot and the least cognizant of their behavior. Add together a bit of religion, arrogance, science, and stubborn, suspend disbelief and ignore physics, and you've got something that describes their angling theory and behavior.
… and as I listened to a pair of bass fanatics agree on the only three colors of rubber worm needed to catch bass, I was reminded of our version, the "Adam's Guy", and how ardent he was that " …the Adam's is the only fly worth fishing , and I catch all my fish using it."
With an ear cocked to the debate on rubber worms, (which had turned from discussion to a more congratulatory tone) I noted that while the obligatory "fist-bump" was in order, both had confessed to owning a garage full of the unloved color spectrum. Most being blamed on destination purchases – based on bait shop banter, and the balance from YouTube videos (and magazine articles) featuring snuff-dipping felons manning tinny microphones apologizing for winning everything while flinging, "… drop shot, with a Dirty Plum Senko chaser."
Naturally us long rod fanciers pick on the Bass crowd with great glee, but they're a mirror of current fly fishing theory. Both groups are equally insufferable in their misapplication of knowledge, both assume the outrageous cost of their tackle makes up for their lack of study or practice, and most lack real knowledge of their surroundings or their quarry, and are content to quote whatever dog-eared rag they've stacked by the crapper.
I suppose the fly fishing crowd can claim a moral victory in that they don't despoil lakes with fossil fuels, but the reality is our leader packages, discarded indicators, and candy bar wrappers are a close second.
Bass fishermen giggle at us because of the nosebleed costs of fly rods, but don't consider they are uncomfortable without a half dozen rods pre-strung, and how the combined cost of all those reels and terminal gear equal or exceed the cost of our rod.
As both groups represent a relaxing hobby gone terribly wrong, its interesting neither dwells on the actual cost of their catch, as both insist on releasing everything before they're weighed. This is a convenient mechanism, given any serious study on the subject will be waved in their face by their Better Half, and used to stifle any sarcasm regarding drapery treatments and domestic expense.
All this imprecision results in shaky estimates and gross exaggeration of catch rates, which we gleefully relay to our confederates with clipped syllables that brook little discussion.
"Mr. Adam's" is equally unwilling to discuss his myopia, and while it may not serve him well hiring a guide to fish a strange river, as he'll scorn any patterns presented by his handler, it won't lessen his ardor at force feeding every nearby dimple with his notion of perfection.
Mr. Adams being right … as even a single suicide fish will buttress his theory beyond credibility. He's conveniently ignored the notion that the Only Fly theorem can be explained by the Commutative Law of Mathematics – which describes why the angler who uses only a single fly for their fishing will catch all their fish on that fly.
This is known in scientific circles as a "truism" … a fact that cannot be argued regardless of the amount of alcohol consumed.
Fly fishermen insist that a massive gold bead on the front of a mayfly imitation actually imitates a mayfly, which might be true if mayflies rode motorcycles and the more numerous Diptera passed a helmet law . This learned scientific notion a derivation based on the original fly being a realistic imitation – and the addition of glitter, opalescent rib and bulbous shiny helmet making the original work even better.
Other realities are never discussed, as they make a mockery of everything us anglers holds dear. How fish only have a split second to eat – before the insect consumes more calories to catch than it'll contain when eaten … and how even the wildest of bloodlines will eat a cigarette butt should it be presented upstream and at a dead drift …
… downstream presentation making it a vile thing – akin to trash.
The most damning notion is how many male-dominated (male-originated) sports share the same mythology. Like the fable of the Well Chewed Fly; despite a dozen undamaged replicas in the box a damaged fly increases its allure with each fish hooked, regardless of deteriorating appearance.
Crash Davis: I never told him to stay out of your bed.
Annie Savoy: Yes you did.
Crash Davis: I told him that a player on a streak has to respect the streak.
Annie Savoy: Oh fine.
Crash Davis: You know why? Because they don't  … they don't happen very often.
Annie Savoy: Right.
Crash Davis: If you believe you're playing well because you're getting laid, or because you're not getting laid, or because you wear women's underwear, then you *are*! And you should know that!
[long pause]
Crash Davis: Come on, Annie, think of something clever to say, huh? Something full of magic, religion, bullshit. Come on, dazzle me.
Annie Savoy: I want you.
– from Bull Durham
Religion and fishing have numerous literal links. Jesu Christo and his over-limit angling habit being the most obvious. Both avocations share legions of zealots – yet fly fishermen have yet to detonate a vest in a public setting, suggesting their fervor, unlike the religious variant, has practical limits.
My theory is that all truly talented fishermen are guilty of irrational behavior and myopic outlook, as it's the armor needed to endure icy waters, extreme temperatures, and  the lack of hygiene of our fishing buddies. We've always considered these trials as proof of our devotion, as they are so off-putting to our detractors.
Like celibacy among priests, anglers require suffering to endure the unknown, and both the Meaning of Life and Why Fish Eat, are intangibles and destined for debate until climate change or Thermonuclear devastation makes both moot.