It's the consequence of attempting lemonade when handed lemons, no matter how sour. Uncooperative fish, warming water, triple digit daytime temperatures, lingering drought, and a hound that requires exercise, each serving to make an outdoorsy type clamp on his hat and carry his rod if just for the exercise …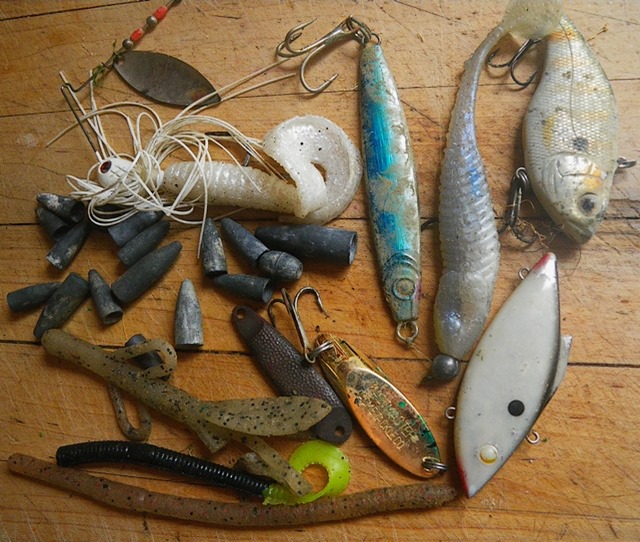 … then again, a nine footer makes a perfect weapon to filch decaying "dollar bills" off the tree stumps,  Considering your average plug is about $8, there's a pile of "dead presidents" represented here.
As I spent much of my youth "dumpster diving", this is akin to the wreck of the Atocha. Replace the hooks and buff anything shiny with a bit of steel wool, and you won't feel the bite of teaching your child to fish – given all the tackle he's returning to a watery grave was rescued from there earlier.
The volume of worm weights and sinkers, rubber worms (whose colors have long faded) and decaying blades from Kokanee trolling is beyond counting. Large stumps have absorbed so much tackle pulled into them from the shore, that there is a leaden debris field on the lake side of each stump, where the sinkers fall once the hook rusts away.
All you can carry, and all you need is hip boots and a dog looking for a walk.