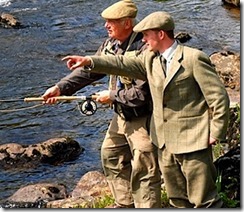 With little to fish for and the only hatch forest fires, I've little to hone my skills than science.
"Neovison Vison" is Latin for our pal the Mink, and a study released on the biological implications of Didymo diatoms spread via animal agent has recently concluded in Patagonia, Chile. Mink, like waterfowl, are able to travel much farther than smaller waterborne animals (up to 10 KM overland), making them a poster child for diatom spread given the damp and humid environment their fur represents.
… and how anything liable to rub onto felt soles is likely to do similar when in contact with a Mink's arse …
Anything immersed in water and coming into contact with damp substrate can carry diatoms, but waders and shoe uppers are an unpleasantness anglers only talk about in hushed circles. We know that were we to point fingers at others with greater fervor would bring into focus our remaining unclean habits and our hypocrisy, and would force us to cast from the shoreline like proper gentlemen.
It's my opinion our beloved pastime and its many pundits continue to ignore issues associated with waders and wading shoe uppers, having performed their "due diligence" by pointing the finger at felt soles, and ignoring the larger issues of us being the vector for a lot of watershed ills.
Unfortunately true concern for the watershed may have us ensconced in a placental plastic membrane, or Tweed and Deerstalker, as science is proving reluctant to condone anyone or anything's feet in the water …
".. wildlife vectors may limit or negate the efficacy of biosecurity measures focused exclusively on the human role in dispersal (e.g. 'check, clean, dry' and gear washing stations) to date, management of D.Geminata has not considered wildlife vectors (Reid et al. 2012) a key oversight in terms of conservation planning and efforts to contain or exclude D. Geminata"
Factor in the omnipresent nature of waterfowl and their intercontinental migration patterns, and should diatoms live within damp duck down as they do in Mink fur, they'll be viable for sixty days flight time, akin to our damp wading gear, yet instead of drying in our garage, landing nightly in a new watershed, and spreading diatoms with each immersion.
Geese were also mentioned as having direct interaction with D. Geminata (swimming, feeding, or touching the bloom).
The article has not yet been released into the public domain, and is available only as a paid download, and therefore cannot be redistributed yet.
IT concludes that 23 mink sampled in two rivers had on average about 3000 live diatoms rinsed from their fur after capture (capture was on dry land), and the kind and type of diatom found roughly matched their occurrence in Nature.
Animals captured near heavy concentrations of D. Geminata had more cells on them than those caught in rivers of weaker diatom density. Which is not surprising at all, and is consistent with common sense.
While humans are one of the animal agents that spread algal cells, and our jets and boats and vehicles make us especially well suited in doing so, our simplistic notion of "our dirty feet" being central to diatom spread and subsequent bloom is growing more holes than a good Swiss cheese.
Dissolved Phosphorus controls the presence of Didymo "bloom" and most of the continents have their own subspecies of the diatom – and have hosted it for some time.
Of particular interest to me is the article's mention that salmonids are also able to spread D. Geminata. To date we've enjoyed an egotistical notion that we are the root of most watershed evil, but even migratory fish scrub the occasional rock – and carry diatoms further up or downriver.
Rainbow trout were mentioned specifically, with a sample of 20 fish having been scraped of mucous yielding no live D. Geminata cells, but Chinook salmon were mentioned as having a better likelihood of harboring live cells in their mucous, but are as yet untested.
This notion I find completely fascinating and potential humorous, given how us anglers flock to salmon streams during migrations, and how our feet may have been blamed coincidentally for spreading the plague our quarry brought with them …
… that ought to bake your noodle.