There's enough latitude in "fishless fishing" to blame lack of success on a plethora of unsavory possibilities. Water too cold, fish too lethargic, too warm, too bright, drunken revelers heaving glassware, boaters heaving breakfast, or simply the flies you knew were going to work don't … and won't ever.
With my constant dickering with patterns my fly box differs from one week to the next. Having the right fly at the right time is the hope – but more often it's having the right fly with the wrong action, poor sink rate, or wrong color.
The lake fish have been giggling at my expense, so I opted to sooth my battered ego on shorter water, where some of my fly tying misdeeds could be observed along with the quarry.
The culprit was easy to spot. The new Flashabou Mirage I'd added to the sides of the pattern were so gawd-awful bright as to make me blush. My minnow imitations looked stiff and the Mirage made them so blindingly apparent that everything scattered away from the flies like they'd been scalded.
The local reception was likely a mirror of what I'd been getting at the lake, but with a Type VI shooting head and extra weight, all that frantic fish scatter had been invisible to me.
There's nothing wrong with the Flashabou Mirage material, it simply announces itself like a New Orleans harlot, something well suited for salt water or depth, but inappropriate for lake fish not yet on the prod.
Knowing the creek was entirely "thin water" and will dry up this year, I took Meat on a scout trip to see where the Winter scour had left the deep water. The Siphon hole had a new tree laying halfway through the run – and a second tree had dropped into the run below that. This would be welcome in any normal year, but instinct suggests with a drought this intense, it will shade only the occasional rattlesnake.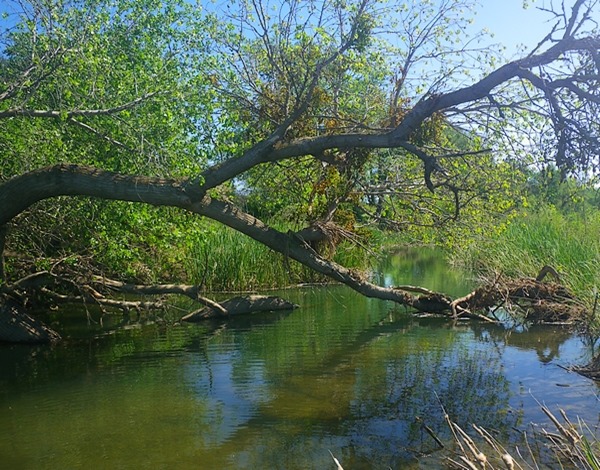 I trimmed off most of the gaudiness from my test flies and was rewarded with the occasional fish. "Winter" conditions are always sparse on fish due to the flooding that occurs, and while our last quality rain was a few months ago, what fish remain are few, scattered, and small.
Fine for us fellows intent on testing flies. Hungry visible fish are always the best option to refine experimental patterns for general use – or find out that some brilliant idea is less so, and only fish on the brink of starvation are vulnerable to your latest efforts.