After spending the morning listening to the throaty bellow of twin Evinrudes echo off canyon walls, and admiring the resultant rooster tail that accompanied each watercraft's emergence from the launch area, I'm thinking the average boat wielding Bass fiend may be a victim of his own mobility.
I'm perched precariously on a 30% slope carefully fan-casting to anything I can reach, and the flotilla of corvettes and beer barges pause just long enough for a couple of casts before mashing gas pedal and disappearing to greener pastures.
I can't blame them for enjoying the adrenalin rush, nor the wind in their hair, I just think them a bit giddy knowing all that watery real estate has neither crosswalks nor stoplights, and there's nothing quite like announcing your presence with authority.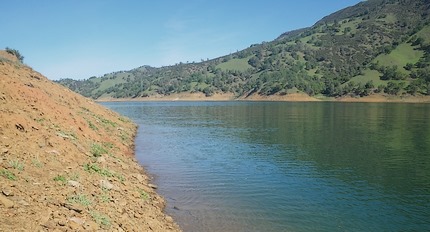 Lake Berryessa is only a scant twenty minutes distant, allowing me to swing by periodically to see whether the Bass are on their beds and burble some poppers to see if the top water bite has started.
While the pitch of the exposed bank can be hell on ankles, the lake was is excellent shape given the drought, with only 30 feet of bank above the waterline. You can walk around the margin pitching flies into the shallows pretty effectively, so long as you walk in the direction that keeps your casting shoulder pointed towards the water. That keeps leader and flies out over the water instead of bouncing off bankside rocks and brush.
All the little coves and depressions along the shore line give you ample opportunity to fish, with one side invariably shaded and others featuring weeds or the occasional downed tree. I wear a pair of lug-soled hip waders to give me a bit more range of motion, as I can stand in the water where it's flat, and provides a bit of separation from the bank ensuring you keep the fly over fish, instead of scrambling around unhooking it from accumulated brush and rocks.
The Bass are most certainly on their beds, but appear more intent on mating than eating, so it appears a trifle early yet.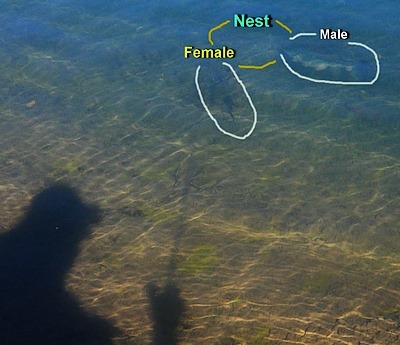 The above shot shows a smallish (2 lb) fish and her beau hovering just off the bank on the bed. I trundled a crawdad imitation past the pair without them acknowledging me or the fly. The larger fish is around six pounds, and was worthy of nervous lip chewing on my part. (I am unable to determine sex reliably, but I marked them with a best guess based on observation of behavior.)
As today is the start of a general warming trend, I'd suspect the coming weeks hold potential for some spectacular fishing.
I did manage to find a few fish early, before the boats starting rocketing about and while shade dominated the coves …
All of the fish had a weakness for my ribbon yarn Crayfish (#2), built with a fistful of long fiber iridescent cactus chenille that I dyed for shad flies, married up with a generous dollop of ribbon yarn and rubber legs.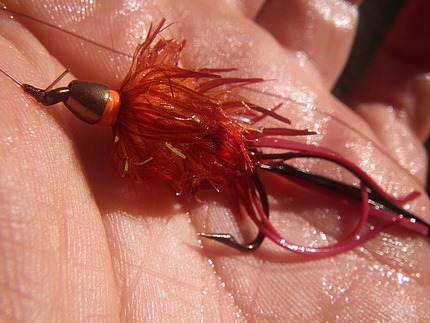 A pair of large black bead chain eyes mounted in the tail position ensure the fly sinks dramatically, which is useful when fishing the deep water that a canyon lake presents. A simple pattern that take about the same amount of time to lose as to tie, ensuring the handful lost in fish and brush are not overly missed.