I heard more than a couple snickers from the "Dawn Patrol",  those fellows brave enough to shatter the pre-dawn stillness with a couple hundred horses compliments of Mister Evinrude …
… of late they've shown a keen interest in the same "head and shoulders" bay-peninsula I've chosen for my latest bright idea. I call it the "fly-spin" rig, but rather than some all-in-one aberration I've merely opted to carry twice the gear.
The above depicts the calm part of morning, where I offload both fly and spin from the vehicle, then take a brisk mile-and-a-half hike to the fishing area – lugging all my provisions and drinking water with me. As I opt for the shoreline route instead of tromping through the low scrub, known for both ticks and rattlers, I have to parade past all the buzz baiters, the jig n' pig types, the crank-baiters, the top water fiends, all of which are unawares their comments can carry a quarter mile or more .
"Fly Rawd, what'see gonna do with that?"
As my mentor has been showing me how to find, seduce, and land, large bass with regularity, I've opted to translate all the plug and lure knowledge into fly tactics.
Every time we've managed to lure large fish to the surface I've glanced over at the electronics to eyeball the depth. As we ease past the shoreline of those areas I can reach by foot, I've noted which points and bays contain the 13' –16' of water that seems to be the sweet spot for big fish and surface baits. Anything deeper doesn't appear to draw fish from the bottom.
This is no different from my San Francisco Bay saltwater days. Despite fishing for shark or perch, I always carried a few Pencil Poppers in case the Stripers pushed a bait ball into my area.
Lake Berryessa is the same type of fishery.  Big balls of shad are pushed into coves and anything within eyeball range starts hopping out of the water chasing 4" fish.
As these occurrences are both regular and fast moving, you want to have a big baitfish imitation loaded on the fly rod,  as the fish herd the bait against the shoreline – within an easy cast by fly despite the omnipresent breeze.
I've got a few 5" minnow imitations tied on rubber worm hooks, size 4/0. These hooks offer a nice "keel" effect that ensures the bait is presented uniformly and offers a jigging motion that accents all that marabou hung off the back.
I walk the entire "head and shoulders" shoreline carrying both rods. I can prospect much quicker with the spinning rod and a big Heddon Super Spook, and deploy the fly rod when the bait shows. The beauty of it is that the big 5" plug will cause the shad to go airborne when it nears the school, allowing you to find the bait regularly – then position yourself with the fly rod if they get close.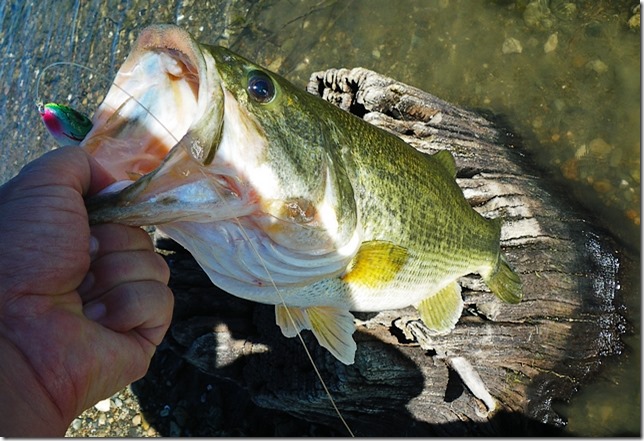 I managed a few fish on my initial outing, most were caught prospecting, and I managed a few grabs when one school made shore nearby … it was brief, intense, and made me want more.
I have some modifications that will assist the flies to perform better in the wind, and I'll need to fashion a custom leader that will be about 3 feet long, with about two additional feet of 20lb tippet.
Fishing of this kind with all the breezes that crop up, the large flies and big hooks, means you need a set of pliers to remove anything that imbeds itself due to bad luck.
That's a long walk back if you're bleeding out due to the unforeseen flight characteristics of a multi-ought black nickel projectile.