Arnold Palmer made a handsome living designing golf courses, and were you lucky enough to get drawn for Powerball and decided not to take the kids out of school, opting instead for a moderate lifestyle replete with small wineries or something private on the lot behind the house, exactly what would it contain?
Considering a large farm complex already owns backhoes and Caterpillars and those skilled in their use, any lull in tomato growth would give you the opportunity to reposition those assets for your dream pond.
A couple thousand gallons of diesel later, and you've scraped a big hole in the ground, but it's dawning on you that's the easy part …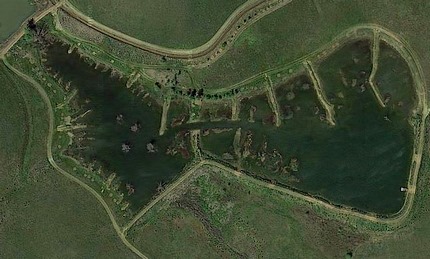 Now you've got to decide how deep it is, how much will evaporate in a single season, do you want to fish it from shore, do you plant trees, do you want to wade it or use a float tube, and what kind of fish can it support – and how many?
I took the opportunity to interview the fellow responsible, as he was a friendly cuss and proud of his work. This was his third such project, about 1.5 miles in circumference and nearly 12 feet deep at the deepest edge.
No naturally occurring water sources, not large enough to require concrete or reinforcement, just a simple earthen dam as recipient for all the dirt carved out from behind, and a simple spillway system allowing any runoff to meander through a short natural area prior to finding the tomato canal below.
Well water fed the organic tomatoes next door, and a simple ditch dug between the closest well and the pond ensured the area could be refilled as needed (for the price of additional diesel).
With a hole in the ground and a water source you've got a muddy liability that in no way resembles a premier fishery, so you've got to add weeds, tules, trees, brush, shade, sunken timber, underwater topography, broken branches, brush piles, duck weed, milfoil, algae, grass, and everything else Mother Nature provides naturally.
… and note we're nowhere near adding fish yet …
Everything in these pictures, every spec of growth, planted by design to provide the eventual final shade pattern for the water. Every grass bed, every tule clump, every willow seedling, and every tree bordering the periphery, hand selected for the shade it'll provide and the stabilization it brings to the machined earthworks.
… every finger pier constructed with its wooden chair and steps leading to the water's edge. All of them carefully staked off at the high water mark to ensure each pier at constant height to the waterline, and every plant placed in the area chosen to stabilize the dirt walking area so wind erosion wouldn't erode the topsoil off each bulwark.
The owner is in his eighties and losing mobility, so the design incorporates the ability to seat yourself in productive water with minimal effort. Wooden steps and hand rails allow access to the water's edge, and seating is provided at each cleared fishing area.
The dead timber is all staked to the bottom to hold it in place, and branches are sawed halfway through then broken to provide branch snarls in the water. Broken but not severed so they hold their position until years of decay eventually dissolves them.
After a year or two of hard work on the banks and shade, covering the bottom in life-giving weed is child's play. Weeds provide the dissolved oxygen in the absence of running water, yet controlling them is not so simple, given that water level, temperature, and ambient sunlight change their growth patterns seasonally.
During summer as evaporation lowers the lake and water temperatures rise, algae and weeds blossom, and quickly cover the impoundment unless treated chemically.
The proceeds of our paid trip were to assist in defraying the costs of another application of weed killer. Dispensed manually, the chemical operates only in the areas its applied, allowing you to sculpt and channelize weed beds.
Bass love to lurk and ambush, and providing the cover to predate is part of a healthy fish ecosystem.
Wildflowers follow each earthen finger out to its seating area. The flowers anchor the topsoil to the structure as it's prone to erosion. Each earthwork has a mixture of tules, saplings, and flowers to provide wind cover, initial anchor of soil, and then the long term benefits of reinforcing tree roots, and the wind protection offered by its canopy, and shade.
Now that banks offer cover and shade is available, and a mix of weeds line the bottom, you can introduce bugs and forage fish. Mosquito fish to control the mosquito larva and provide forage for anything larger, then Bluegill to eat those – each introduction needing permits and the blessing of Fish & Game. If you have a creek feeding it you have one set of problems, and if you have a wetlands it's another set of triplicate. If your thing empties into someone else's thing, it grows even worse.
… and then finally, when all of that stuff is living and thriving, when you learn the delicate dance between water, its temperature, its life-giving carpet, dissolved oxygen, shade, and tasty fish and bugs to eat, you can introduce the Quarry.
Tomorrow – Part III The part you're salivating over, the fishing …