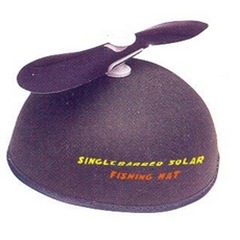 There's great potential in thin film solar fabric for fly fishermen as we're always the last idiot to head for shade. Rather than sell the extra juice back to the Grid, it makes sense to start thinking about what gadget you want to power, as it's your cranium that's baking, it should be your call.
Figure the back of the vest and top of the head would be the likely location for the panels, and in a good day afield you could power some small device for 2-3 hours with what's collected, so what would it be?
Cell phones are out, as they're as likely to interrupt the fishing as offer some benefit, and despite the advances of science, we're still leaving those puppies in the car. Most beneficial may be a lighting system – allowing me to tie on one last fly at the critical hour, and assisting me to find the car again as I tromp my way out of the woods. A distant second may be an electric ice chest – toss your vest in proximity and stop worrying about the mayonnaise…
Wireless power sources could give us "electric hook hones," unlimited text messaging, a full range side scanning sonar, "hat fans" that cool our fevered brow, and a multitude of electronic gear with questionable value.
The Solar Tent has merit, all we have to do is drop the vest within wireless distance to pull an "all-nighter" flytying session. Stringing Christmas lights on a couple of pine trees would be fun, likely scare hell out of both bears and inquisitive neighbors..
Just shed the taciturn "John Wayne" image for a second, as Dan'l Boone would've given his eye teeth for a cold one – what electrical gadget have we always lusted for, but never had?
Technorati Tags: solar fabric, wireless power, proximity, solar tent, electric fishing gadget