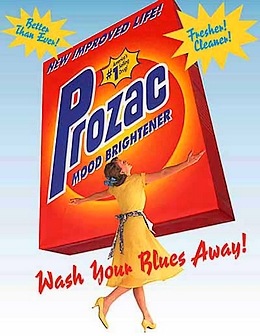 Antidepressant use doubling in a single decade? That should make  happy anglers considering Estrogen, Progesterone, and anti-depressants are among the many chemicals making it through the wastewater treatment process and spilling into your favorite creek.
The rise in antidepressant prescriptions also is seen despite a series of public health warnings on use of antidepressant drugs beginning in 2003 after clinical trials showed they increased the risk of suicidal thoughts and behaviors in children and teens.
Which neatly accounts for the steady increase in hooked fish while lighting a cigar, or fish that slam my dry fly as it screams across the pool throwing a goodly wake ..
Then again, I'm morose at the office and much happier when fishing – suggesting that evaporation might have me inhaling my fair share…
With 10% of the US population on prescription anti-depressants, it also explains why so many poor drivers exist – whose index finger thrust from the window salutes us remaining 90%
Tags:antidepressant use, rise in prescriptive antidepressants, estrogen, progesterone, prozac, happy trout, wastewater treatment, evaporation