Got plenty of exploring done, fished 6 miles of river over the last 14 days. Fishing is a lot more than catching, and there's nothing like the reward of nice surroundings and willing fish.
None were big, but all were enthusiastic and committed. I'm left satiated and 8 lbs lighter due to of liquids lost while humping trail in triple digit weather. The hip boots arrived none too soon, another week and I would have been a casualty.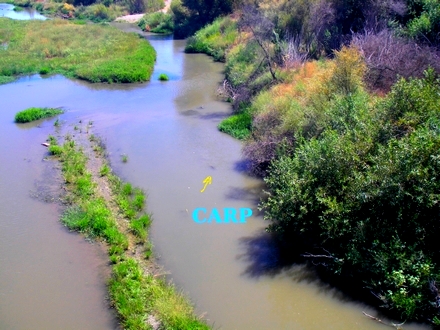 The Carp are still elusive, but I don't feel so bad after reading the Day Tripper's account of spotting carp, I felt their pain. Being solo all I can do is use stealth and foul language, usually one then the other…
Lots of free turkey tails, and they were as parched as I was, overcoming their fear of humans long enough to get water from the creek bottom. Something to ponder in November, us fly tiers are incorrigible – if it moves we are sure to kill it for the fur or feathers, with only beaks and feet to make the trash can.
I do need to find a better hydration system, as I sure can't drink the local effluent, that will be a next season issue, as temperatures will likely start falling soon.
Satellite imagery was a new tool in my kit this year. Both Google Earth and the Microsoft Terra Server offer the ability to get imagery of the local landscape, although both are often dated. Unknown water is always a  challenge as the next bend always holds more promise than the last. Getting topological information ensures you always have a feel for what lies ahead, for us aging, lard butted solo fishermen, it's a safety issue as well.
See you after work, on the foam line.
Technorati Tags: brownlining, Google Earth, vacation, satellite imagery