Now that them Mountain Folk of Trout Underground fame have cast a pall on us "Brownliners" – I figure it's up to me to settle scores. Rather than spend the morning searching for Bikini pictures, I hit the "Little Stinking" with rod and dry waders..
Last evening we confirmed the kind and type of fish present, while the temperatures were mild I wanted to cover some ground to see what was available.
This is an "olive" stream, Mother Nature will cloak most of the fish and bug life to match the color of the stream bottom. A fine cobble stream, with all of the cobble edged in olive green filament, ideal for spawning fish and ATV's. Knowing the predominant camouflage color makes fly choice easy, Olive anything, with size the only real variable.
For starters I hit the same couple of spots I had tried the night before, flinging a #14 Olive Bird's Nest to a luke warm reception. Went down to a #18 and picked up about 8 smallmouth, none larger than 6 inches.
Saw my first dry fly action, could not make out anything on the water, so I retrieved small nymphs through the rises and landed some more minuscule bass and pikeminnows. The midges that were present were about size 32, not suitable for imitation, at least not with these tired old eyes.
Briefly I considered baiting TC with the "Brownliner Three Three-Oh" club, catching a fish under 3 inches on a fly smaller than 30, but if he lost he would pummel me with soft porn posts, better not…
Found some nice water about a mile upstream, small pools of 6 feet depth, deep enough to have some real fish. Switched to a bead head Pheasant Tail and thrashed about briefly. Landed a 10″ pikeminnow, which was a big thrill – 10 inches of anything is fun to catch, and these torpedos are movers, Brownliner Bonefish, they do everything but jump.
My favorite run had a nice riffle leading into a pool dominated by a gigantic earth mover tire, easily 6 feet in diameter. Made for a nice perch to fish from – unfortunately the deepest cut was under the tire, and I spooked a pod of fast movers getting on it.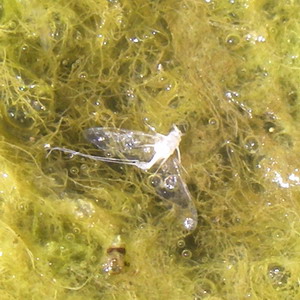 Found my first evidence of mayflies. A snow white #16, saw one in the air, and found one adrift in some weeds. This is sure going to be easy to imitate. The presence of the riffle water and some weed beds likely was the cause, the ecology had undergone a change with the water depth. Riffle water increases the oxygen content, and some beds of elodea added cover for more varied bug life.
I ran the riffle with a Bird's Nest and landed about a dozen fish. One bass and 11 pikeminnows, to about 7-8 inches. Nothing quite like small fish, their aggression overcomes all other instincts, with us Brownliners reaping the proceeds.
Two hours into a stellar morning, temperatures starting to rise, and I can hear the roar of ATV's and the staccato bark of paint ball guns flaring from across the creek, looks like the Armored Cav hit an ambush.
I beat a hasty retreat, Brownlining is fun, but when those Phantoms roll in with the Napalm, you'd best be at distance…
See you on the foam line.
Tags: Brownliner, White fish, small mouth bass, Cache Creek, fly fishing