Eating the damn things has never adequately explained our zest for rising before dawn and spending the day waist deep in icy water.
I've always assumed that as our ability to hunt and gather is trodden upon by the more Urbane branch of Homo Metrosexualis,  whose tiny dog barks menacingly from their apartment window, whose owner is indifferent to Nature as the call of handheld electronics is twice as compelling, forces us Outdoorsmen to funnel our aggression into stomping life out of things smaller than us.
An inconvenient truth, given how we've attempted to make our sport politically correct with the, "we don't eat them anymore" mantra.
A decade of reality shows celebrating People Behaving Badly and more recently, Presidential debates that are anything but, suggest Man may have reached a tipping point, his intellect on the wane and his base nature rules the day.
The research into how fish interpret and integrate sensory information, led by School of Biomedical Sciences ARC Future Fellow Dr Ethan Scott, could improve understanding of how humans combine senses like sight, touch and sound to create a complete experience.
With science now examining fish and their senses to understand Man's interaction with his surroundings, it offers anglers a unique insight into behavior they see from our quarry yet mirrored in society at large.
Like "schooling" on freeways, "bottom feeding"  the Internet for amusement, and "rising" at anything feminine at the bar; first at the unusually well formed insects, and as the hours and drinks pass, the classic "smutting rise" for spin-sters, cripples, and anything else described as,  "… a ten at two."
Those of us not capable of stalking and killing our own food return from the field to hunt in restaurants.  It should be no surprise that both fish and humans prefer fast food, as a mayfly spun through a riffle is as elusive as the menu picture of a savory meal – both promise much and are elusive to capture …
Turgid tomatoes, lush green lettuce, crisp onion slices, melting cheeses, and bubbling meats buttressed by soft breads; things that exist at the peak of ripeness, rich in color, damp with moisture, and  lure us like a majestically tied artificial. Proportions perfect, torso chiseled and regal, dancing on the water prior to leaping skyward,  wings taut, upright,  and drying rapidly. …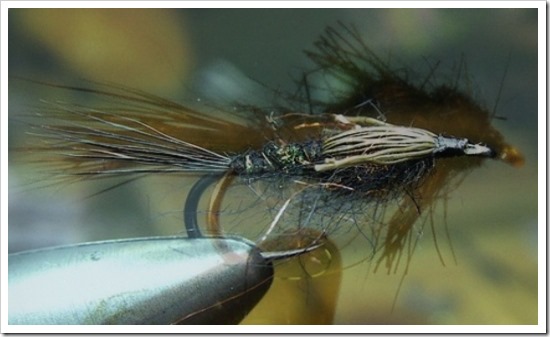 … and like our pellet fed surrogate, we fall for the SOB just just as hard.
Tasty awesomeness rolls over the lip to vanish in a dose of reality, as sodden paper bag borne of plastic tray delivers the congealing  lumpy turd through the driver side window.
Red tomatoes now mushy and pale, lettuce trending into the yellow-olive and drooping into the greasy unmentionable leakage from the patty of meat-like substance.
Our senses are fine, and while we recognize the lumpy thread whip finish or gleaming gold bead isn't part of a mayfly, like the fish we'll consume the gelatinous mass anyway. … hoping some hidden spice mixture alters "Powerbait" into a feast fit for royalty.
The rich reds, and damp greens of the menu vanish in favor of the the "well chewed" imitation – which arrives sandwiched between Clinch and Split Shot .. (or the canned peas and imitation Ice Milk.)
Assuming that pollution in streams is a rough approximation of  tomatoes grown for toughness rather than flavor, and vegetables picked green and ripened under the reefer's fluorescent glare, there's something fair in all this.
Learning of our willingness to suffer and explaining another's plight in similar terms may shed light on the way we think, but the visuals aren't so much the issue. Our willingness to settle may neatly explain both the well chewed fly and how anything made from Dog hair and Owl feathers rivals blister packed cheddar … or the attractiveness of an offshore-tied Parachute Adams.