I remember being horrified when I found out that Mister Mxyzptlk was able to stomp the guts out of Superman despite the dizzying array of superpowers The Man of Steel possessed.
Being an imp from the 5th Dimension, Mister Mxyzptlk was able to channel bad luck to his assistance. Every time Superman attempted to thwart his crime spree, the blow would decapitate some old lady in a crosswalk, or his super-heat-vision would fry some school bus full of kindergarteners…
… and I'm convinced I am firmly in the grips of something similar …
… broke a tooth Friday on the stone part of a "stone-ground" tortilla. Saturday, "Gopher Team Six" unearthed a monstrous rock just under the grass canopy of the rear lawn, and the mower was destroyed in an instant.
Having played this game many times I realize eventually the worm will turn and my ill fortune could turn into a monstrous day afield wherein everything below the water ate everything I tossed their way …
… but hanging off that large root above the rock outcropping while negotiating the forty-five degree slope of the lake was asking too much. Just as I had maneuvered to safety my feet slid crumbled the shale below and I bounced off a big rock outcropping that mashed ribs and robbed me of breath. I did manage to retain my grip on the root despite my sudden full fetal, and gasped out the obligatory, "double f**k me" once I had enough breath …
… Swearing profusely being the aerobic form of walking off a nut shot …
Newly reminded that my streak of poor luck was in full swing and thankful I hadn't broken another rod, I wobbled up the cliff while wheezing in pain, hoping there had been few witnesses.
Chores being dangerous and fishing being doubly so, I opted for finishing the day afield like a proper dandy, thinking the pursuit of wild flowers couldn't manifest itself into anything worse than a bee sting.
The idea was sound enough, but all attempts to record the adventure were scuttled by Little Meat, who apparently is just that and all HAM.
I thought orange flowers were distinctive and represented little chance of malady, he thought they needed watering …
I thought white flowers would make a pretty picture, and he thought the 2500 pound bull needed exercise … most of that being in my direction.
I thought yellow flowers was breathtaking, he thought it appropriate to drop deuce, fortunately for all of us, he was discrete …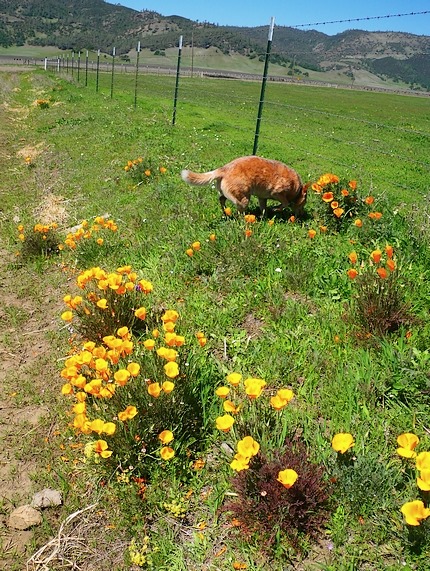 I'd throw a stick in the opposite direction and when the shutter clicked the beast was mid-frame and smiling. I think I'll drive slowly to work tomorrow … with blinkers on …
… or perhaps pull the blinds and simply go back to bed.