I have a tendency for melancholy when my beloved creek's bones are exposed.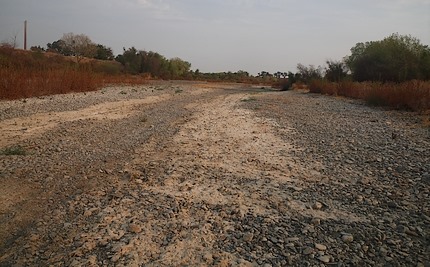 Dewatering is now a yearly ritual and simply means the upper stretches of the creek won't be worth fishing for at least another three years. While more fish will move down from the dam this Winter, it will take many more years to make them of catchable size.
What surprised me was how this year's killing made me rethink the sport, its past emphasis on conservation and the environment, and how the tired old conservation rallying cry is no longer of any consequence to me.
Since 2008, both the US and world economy has dominated the headlines. Federal, state, and local municipalities have little money for conservation or wildlife stewardship and their focus has been avoiding fiscal insolvency. They've backed any project deemed "shovel ready" to stimulate jobs, keep tax revenues stable, and ensure some small fraction of us retain our homes and keep making those all important house payments.
At the same time, "fracking" has brought about a renaissance in our indigenous oil and gas industries, and the last couple of administrations have been quite happy to open new federal lands and accommodate new leases to ensure the boom absorbs as many out-of-work citizens as is possible.
State governments are concerned about solvency first, stimulating those areas hardest hit by the Recession of 2008 and falling home prices, and ensuring they make a business-friendly environment for whichever flavor of entrepreneur makes eye contact.
That means less money for all state programs, not simply our beloved parks, game, and wildlife oversight agencies.
As the days of the hundred dollar fly rod are long gone, as is the fifty dollar chicken neck, and anglers are being steered into a brand-conscious urbane fishing experience where tackle is the new professionalism, how come conservation still comes in its sorry old wrapper?
Sure, there's a few mean old guys like myself that think fly rod technology has become Microsoft Office, a bunch of stuff added that no one asked for and so esoteric as to not even be announced on the box. But change has always been good, and if I'm to embrace this new fishing mantra, why am I still enduring the same tired "Salmonid Uber Alles" on the conservation front?
"Give us your money so we can spend it on the headwaters of some creek, shoring up its banks and ensuring the fragile little salmonid we hold above all else, is able to thrive for six months more …"
Salmonids are yesterday's news, and creeks cannot be restored with grant funds as they're available once and watershed restoration is a yearly cost, as the need is forever. In the face of climate change, why are we perpetuating salmonids, which are fragile like European aristocracy, inbred hemophiliacs and incestuous to the point of instability?
What conservation needs is a cockroach, something hearty with thick scales that can handle being squeezed, gut-hooked, run over, and peed on, as that's what the new ecology warrants.
I only fish for salmonids occasionally, yet I 'm supposed to care more for someone else's creek than I do for mine, knowing that my money won't sustain life, it will only postpone the inevitable.
In my state the environment is a foregone conclusion. Huge tunnels drilled through the Delta will divert all the remaining Northern water South and the real issue is whether we can pass the bond measure, not whether it's a good idea or no. More billions for high speed rail relegates eminent domain or environmental press to the rear of the metro section as the Governor backs it, the legislature wants it, and the Resources Secretary remains silent.
"Fight the battle you can win", and this is not about the environment as it is lowering the unemployment rate. Smiling workers growing crops, and ensures agribusiness has everything it desires to grow ever bigger and employ more. High speed rail permits those workers to live ever further from where they toil, allowing Southern California cities to sprawl unchecked, to annex large portions of Mexico or even Arizona …
Our governmental agencies are rooted in the propagation of dead fish over the living, which is why so much of their dwindling finances are spent raising so many. It knows the majority of its citizens ignore their doctor's advice and don't eat fish, but like all outdoorsmen, are thrilled to kill them at every opportunity.
Our angling conservation organizations serve up the same tired sales pitch that starts with an appeal to our sensibilities, how we're duty-bound to steward the environment for our kids, yet our kids show no sign of stirring themselves from the embrace of their X-box, and both anglers and hunters dwindle further. "Conservationists" are seen in the major media venues as a radical cadre of eggheads and Vegans determined to impede the majority in their right to terraform the environment to their liking … and conservationists … conservationists are but a single threat level away from a drone strike.
As I regard all the vast expanse of sun-blasted rock that was my creek I realize my generation and those before me had our chance …
The Sixties were all about Mother Earth and Birkenstocks, whole grains, whole foods, and living in an uneasy peace with the planet. All those macrobiotic peace-loving citizens grew up and decided that while bean sprouts were cool, cheese burgers were better, and now cries for "Saving the Whale" means an exposed arse cheek and an insulin shot, as Earth shoes faded in favor of Cheetos, and Mother Earth was reduced to the Couch.
Swooping in for the kill is Madison Avenue, who picked up on the last half dozen presidential elections and elevated "what scares us" to the new Sex. Fear selling even better than a shapely ankle, and anything outside of our control like sleeping on the ground, bears, bees, or bats, should make way for gleaming hotels and more cell towers.
… after all, animals have had the run of the woods for tens of millions of years and all they do is crap in it.
In short, after many years of living that dream – of portaging out discarded leader bags and cast-off indicator foam, of spooling loose monofilament and tucking it into a vest pocket, of policing empty beer bottles and broken Styrofoam from dropped coolers, it has become time to turn this over to the next guys … to do with as they will.
As I've not fished for a salmonid in some time, I'll ask of those conservation organizations what I've asked of my cable vendor, my Internet provider, and all other luxury items I purchase … how it's time to tighten my belt, and "trout" is no longer enough of a message for me to continue my existing service.
As no one is interested in my stressed little brown rivulet, I'm no longer interested in footing the bill for the last two miles of some creek I'll never fish.
… furthermore, the fact that you stabilized its banks and planted willows does not mean you can contact me next year for more money.
Global warming is likely going to treat your thin skinned, disease prone, clean-water-requiring salmonid and stress its watersheds and eradicate it from much of its historical and introduced turf. Just as its doing with all forms of amphibians. Global warming is change and while currently seen as bad, may just be the way of things when you consider the last 35 million years.
Remember it's not the climate change that you need to fear, it's the competing predator that climate change brings with it that will ensure no trace remains. That unloved cockroach fish that eats human waste, reproduces asexually, and doesn't need the banks stabilized or willows planted to lower water temperatures, it only need pets and small children frolicking in the lukewarm brown water to feed …
It might be the Smallmouth Bass or the Asian Carp, but something will surely skull-fuck your fragile little salmonid and claim the prime feeding lie. If that's not enough, then your remaining little enclaves of salmonids will be dispatched by well meaning humans, who delight in stomping life out of ecosystems as a byproduct of "stewardship" and unclean felt soles.
The future fly fisherman is not likely to be a poster child for a chilled Chardonnay, rather he'll be chugging a tepid energy drink over something dirty and lukewarm…
… yet friendly. There'll be no stiff necks and stiffer lips when a dead cat drifts through the riffle. It'll be the Brotherhood of Suffering and Antibiotics, instead of ascots and clean linen.
.. and it's about damn time.
For those conservation organizations that survive, your mission will evolve accordingly. Your issues no longer resonate with me or the environment. The headwaters of some salmon creek that hosts 30,000 fish held in higher regard than a hundred ignored creeks that once held  100,000 fish each, is "grant money" math that doesn't add up.
When your mission statement and your desired outcome embraces more than salmon and trout, feel free to send me another request to reestablish my membership, as I can always use another swell hat.