By KBarton10 on Aug 17, 2013 in Nothing to do with Fishing
The steady beat of his tail suggested he knew most of the dialog on his care and feeding was likely to be disregarded out-of-hand. I leaned over to scratch behind Meat's ear, echoing the last commandments of his owner,  "… perhaps one tasteful cup of dry dog food with a little organic chicken broth sprinkled on it, should tide him over handsomely."
Naturally that ration was fit for someone's parlor plaything, not the fierce, trailblazing fishing dog I would be looking after for the next couple of weeks.
A real fishing dog is capable of fetching a rattlesnake in mid-rattle, whose exposed white teeth and fierce growl cause competing anglers to bolt for the safety of the car, and whose keen nose ferrets out the freshest of road kill, crunching through bones and meat yet always leaving the fur or most desirable feathers intact.
… and any animal capable of scaring a full year's supply of turkey tails off fat-arsed birds unused to being first herded then chased, warrants a meal fit for a fellow outdoorsman ..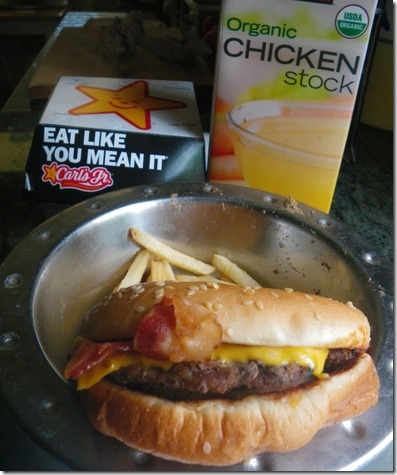 Yes, he's pretty much useless for the next four hours but that's true of all of us. We recoup precious calories via midday orgy and subsequent nap, ensuring we're in top form for the evening hatch.
I sprinkled it liberally with organic chicken broth assuming it would ease passage through the small intestine … I just need to take him to the creek again tomorrow to ensure all evidence of our misdeeds is left there, rather than on the front lawn.