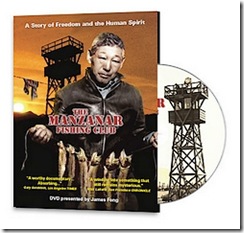 My past experiences with fishing videos had made me unprepared for something quiet and truly dignified.
I'm used to a (pirated) over-amped  Van Halen "Jump" – blaring at me while the artsy- angle turns Agile, Big & Silvery into Slow-Mo, while it showers the camera attempting to free itself from some coifed super-consumer, who's just as intent on not spilling his Banana Daiquiri, while waving the carbon equivalent of a house payment.
Rather it was a simple historical narrative suggesting that to us fishermen, the McQueen-esque "Great Escape" is something we're all willing to endure, given how fishing can be both defiance in the face of oppression as well as instrument of restored dignity and balance.
The film is entitled "The Manzanar Fishing Club" and recalls the outbreak of World War II and the subsequent removal of Japanese Americans from the West Coast and their relocation into the interior of California, near Lone Pine.
You see, in our house there was a sort of family prejudice against going fishing if you hadn't permission. But it would frequently be bad judgment to ask. So I went fishing secretly, as it were–way up the Mississippi. – Mark Twain
With trout streams bordering the mile-square perimeter, and with 10,000 Americans penned within, many featuring a life-long fishing heritage, it's not surprising that the barbed wire and armed guards of the US Army might prove porous in the face of large and willing fish.
As it was Veteran's Day and my television was already dominated by tales of bravery mingled with blood and guts, it seemed fitting to take a break from Steve McQueen and James Garner evading the Nazi Menace and watch the ingenuity of an internee fashion a split bamboo rod out of glue, a garden rake, spent brass cartridges as ferrules and bent paperclip guides.
Funny how there are no red carpets and Academy Awards for that …
Lines made from cotton sewing thread and hooks made from bent needles, flies scrounged from Sears Roebuck or Herter's, or simply a pocketful of freshly dug earthworms to make unsophisticated trout into a meal.
What's more astounding is the details of long forays into the Sierra, how the lure of Mount McKinley had the most adventurous in search of Golden Trout, climbing the 12,000 foot peak and catching both the Colorado Cutthroat and Golden Trout, spending weeks in the woods with a minimum of equipment and often alone.
I've always been keenly interested in this period in American history, so I enjoyed the 70 minute feature very much. It illuminates a sordid piece of our past we'd just as soon forget, yet through their narrative gives us anglers insight and understanding on how our hobby can represent so much more in the face of loss of Liberty.
The DVD is $24.95 and available from fearnotrout.com.