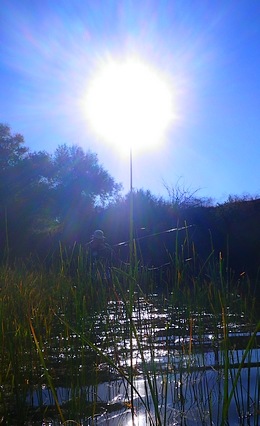 I've wondered whether the root issue with us native Californians, why we appear odd, unhinged, or off kilter to the rest of the Lower 48, is us having to endure a calendar year without seasons.
Summer and Not Summer, both require an umbrella at the beach and the only way to distinguish sweat from rainfall is its temperature.
Our inability to observe Fall or Spring, our single wardrobe and our lawns remaining green from August through New Year means the only way to determine May Day from Christmas is the raw fish we're served, as only the "Catch of the Day" changes, and little else.
Which explains why we're so keenly interested in Candied Eel and the Pumpkin Latte, as it's an important seasonal indicator …
Us fishermen have it much worse given it was ninety-five on Friday, seventy-five on Sunday, and Monday is scheduled for fifty-five. Without seasons, with ample sunshine, and with the barometer a falling knife, even the bait shops shrug and wish you luck.
… and while the rest of the nation turns the page on their calendar, clucking in admiration at some Fall color scene from the Adirondacks, I'm liking my "lack of seasons explains why we're a Blue state" – noting how it serves double duty explaining why I spend so much more time feeding fish instead of catching them, without impugning my few skills or imagined talents.