Ever mindful of the luxury of a readership whose unflinching interest in fishing related minutiae knows little boundary, whose tastes for gross exaggeration and half truths are met with unwavering good humor,  I'll reveal why your fly rod will double in price over the next four or five years.
… and why you may skip a few mortgage payments simply because everyone else is doing it you may want to lay in a couple extra given the circumstances.
Shifting graphite demand trends are driving prices for the flake variety to all-time highs, a fact not lost on investors or the companies scrambling to produce it. Market capitalizations are bouncing higher for companies across the board, from early stage explorers to others closer to actual production.

Investors' burgeoning romance with the graphite industry follows another love affair with rare earth companies, key to technological innovations in components for vent fans, jet engines and laser-guided systems for smart bombs.
– via the Globe and Mail
With the graphite market at all time highs and increased use forecast across a multitude of industries, we're sure to hear some rod maker claim how his costs  are climbing exponentially and a thousand dollars isn't near enough to break even …
… and were we to guess what it takes to build a typical fly rod given the current market, economic upheaval, a luxury industry, and a vendor trying to make up for a downturn in sales, will fact support such an outlandish claim?
The enthusiasm around Canadian graphite companies is almost palpable, and not for the first time. Many of the deposits being looked at today were already close to being put into production before they were shut down in the early 1990's when No. 1 producer China raised output and prices fell to about $600 (U.S.) per tonne from more than $1,300 per tonne in the previous decade. Today, flaked graphite can fetch as much as $3,000 per tonne.
Cursory evidence (above) suggests raw graphite prices are in lockstep with rod prices. A Fenwick HMG rod in 1992 was between $250 and  $300, and in the 20 years since both the price of rods and the price of graphite per ton have increased five fold.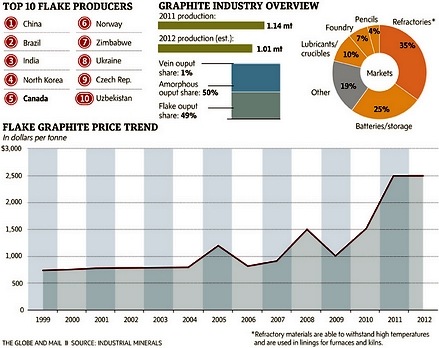 Guess-timate Portion, containing unsubstantiated obscene profits:
If we assume the amount of raw graphite needed to build a paper-backed sheet of graphite is about three times more than what lands on the paper (loss and compression in the manufacturing process) and the typical three ounce rod is half epoxy resin and half graphite scrim, then about 6 ounces of graphite will be needed to make a single rod.
A metric ton (tonne) is 2204 pounds (35,264 ounces), which based on the above rationale, will make 5877 graphite blanks. Based on today's prices, the raw material costs of making the paper-backed scrim … is all of fifty-one cents.
In between them and us is a lot of folks screwing a lot of other folks.
… and a goodly amount of manual labor, regular capitalism, insurance, 401K's and the overhead of a trained workforce.