By KBarton10 on Apr 23, 2012 in fly fishing humor
Only wading anglers and duck hunters share that involuntary wince that comes with leaving terra firma, knowing the only thing between you and becoming a fossil fuel is two hundred years of decayed tules, woven together by the occasional Willow root and buttressed by the odd Safeway bag, washed from upstream.
Ten thousand years from now that mix will be a petroleum product, but right now all you can think is how you'd better move about extra slow, so you're not preserved with it …
You'd made the call from the safety of the freeway above, how that couple miles of ditch that moved dirty water from the close by rice to the distant tomatoes, would finally reveal its secrets, and in so doing provide a bit of sight fishing for unwary carp, newly exposed as their murky protective blanket had been drained away.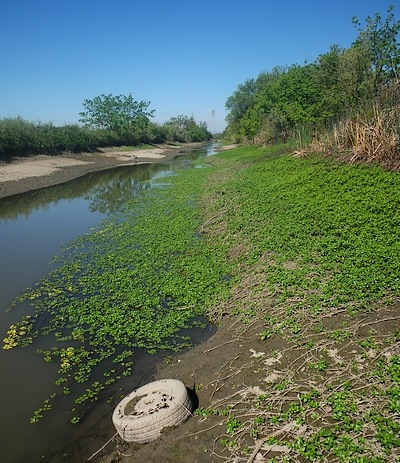 You'd seen monstrous shadows framed in chocolate milk, seen them fade and grow indistinct as fast as they showed, and knew that with so little visibility only the precise cast might result in a grab.
… and against better judgment, you'd waded out hoping the surface area of them monstrous size 12 boots would keep you suspended on top of the queasy, rather than arse deep in it.
All the while, getting that "come hither" action on the far side where big swirls in the chocolate bog attested to large carp feeding, the occasional fin breaking an opaque surface – proof that outside a noisy footfall, they couldn't see you either …
Too far to roll cast, a wall of tall tules ensuring all casting was confined to the parallel versus perpendicular, and your best efforts landing three feet shy of money.
So I took that slow step forward – given the water I was in was only knee deep, and if the mat beneath held …
… which it didn't, and I knifed through the bog with the front leg, pitching me forward too fast and putting all that ponderous bulk on them suddenly-tiny feet, and I'm waist deep in mud and wearing hip boots …
I got the cell phone free quick enough to save it, knowing that if I couldn't extricate myself cleanly, it might prove really important later. Mud being like ice, it's all about distributing all that great gut onto as broad a platform as is possible, given that struggling only sinks you deeper.
Climbing out of your waders on hands and knees is typically the best course of action, it's akin to tearing the Band-Aid off the wound rather than teasing the edges, sock feet can find purchase on the interior rubber, and that's enough to get you on top which is most of the way to dry land and safety.
I managed to flop closer to the bank, which couldn't have been more than four feet away, and outside of shipping the waders full of mud and water, was able to use the prone rod to get me close enough to grab some foliage.
Outside of wallowing in mud and shipping some strange (completely gross) soapy agricultural chemical into both boots, I'm still breathing. Although both legs itch most fiercely …
What's needed is bog wading boot that minimizes impacts to Mother Nature, resists the spread of invasives, and allows us pear-shaped practitioners to distribute our weight in such a manner as to be gazelle-like with either shotgun or long rod …