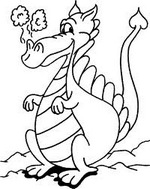 … and while the mini Big Box's are squabbling over table scraps, along comes the Dragon and ate 'em all up …
Cabela's Incorporated, the World's Foremost Outfitter® of hunting, fishing and outdoor gear, along with the Federation of Fly Fishers, announced today plans to offer industry-leading instruction for beginning fly anglers at 13 Cabela's retail locations – and online – starting in May.
– via PRWeb.com
My take on all the SIMM's drama suggests the big fly fishing vendors have cast their lot with the Big Box fellows already, they're simply waiting for the right time to tell their "old girlfriends" they've had enough. But that's okay, as we knew they were "for profit" companies and how loyalty, tradition, or sentiment, finds little purchase in the boardroom.
Earlier I'd heard Cabela's was testing a new kind of mini-store, that smacked of the neighborhood variety, smaller sized to make inroads into smaller markets, the last bastion of the little shop.
Cabela's Outpost stores, designed for efficiency, flexibility and convenience at around 40,000-square-feet, will open in markets with less than 250,000 people, bringing the same quality products and customer service for which Cabela's is famous to hometown markets too small to support Cabela's popular next-generation stores.
– via MarketWatch.com
(40,000 square feet is half their normal store size – KB)
Deep down I'd have to say our community essentially asked for this outcome. A fractured and contentious group, selling a luxury hobby into the face of Great Depression II, unwilling or unable to band together, leery of the Internet, change, and each other – until the big assed mean Dragon ate them all up …
At least it will give me someplace to wander through when Sweetpea is at Walmart …