Now that Maryland has reinstituted last season's Snakehead bounty, gifting anglers a $200 Gift certificate from Bass Pro Shops for each kill, most of the state is likely mulling dumping their day job and becoming a Bounty Killer in the image of Clint Eastwood ..
As always, your friends and family won't understand, and they'll huddle tearfully on the lawn as you back your boat out of the garage. They missed the earlier fireworks where you hurled your paper hat into your ex-boss's face, an underemployed-desperation job you'd landed when your first career imploded due to the housing crisis, and while fishing is undoubtedly more honorable than manning a drive thru window, after you earn every fly rod, every reel, and every accessory possible for your too-stuffed vest, can Bass Pro really put food on your table?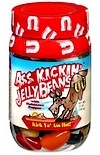 While their catalog boasts 600 items containing the word "food", most appear to be things you sprinkle or spray so you can lure Bambi into rock throwing range, and the rest are best served as ingredients for a still, in the vain hope fermentation might improve its flavor.
… although their Ass Kicking Jelly Beans might serve as stellar breakfast food …
Which has always been the knock on voucher bounty, once you've stuffed your garage full of the complimentary American cheese, your interest wanes for your real mission, which is killing invasives.
… that and your landlord is less than thrilled when you offer two thousand yards of Dyneema and four gross of motor-oil flavored twisty grubs for another month's rent.
Unlike the awesome cash bounty placed on my beloved Pikeminnow, which has made the papers each year – given the $4 – $8 bounty paid for each corpse larger than nine inches. At last count over 3 million fish had been removed from the Greater Columbia drainage.