It's the trip every guide fears and every father dreads; how to introduce Poppa's lifelong love to his progeny,  in a way that results in beaming children that gaze at their father in complete adoration …
… add the pressure of yesterday's post, where at this young age we can BUY precious eco-votes for the price of a single candy bar or cold coke, and the even the most optimistic parent begins to blanch …
I call it the "15 minute rule" – add the ages of all the participants and divide by their number and you get the number of minutes you can fish without complaint.
Watch as I use my jovial fat guy powers to undo all that stern tutelage about not talking to strangers, and undermine their natural shyness around strange adults. Cringe as I swear like a sailor, and find gross things for kids to throw at their brother – while I show a couple of potential fly fishermen where "Eewww" grows, and how much fun you can have doing things your Ma would have a fit over …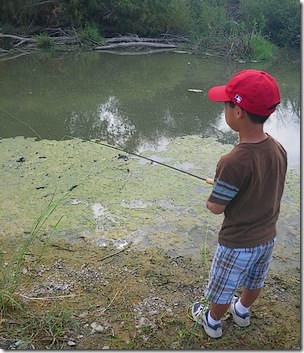 Failure isn't an option anymore, we have to package a time honored snooty old profession into something that rivals a massively multiplayer online pseudo-reality.
Which is yet another reason to celebrate warm water and the appetites of coarse fish, most of which are willing to bite anyone or anything that comes within range, and will hurl themselves at a bit of wrapped flash with a fluffy tail and a come-hither action.
Above is my client, Garrett who thought a fly and bubble pretty lame, the spinning rod and Rooster Tail not much better, and insisted on the fly rod and measured retrieve just like his Pop and older bro, below …
… and while he attempted to remain good natured about double skunking his older bro and his poppa, his cool handling of the voracious Brackish water Barracuda (aka Sacramento Pikeminnow), revealed his outdoors nature in the face of mano y mano encounter with a known man eater.
Actually, it was all those parental lectures on respect for elders that allows me to assist a young fellow thrust into unfamiliar and odious surroundings.
He assumes everything I say and do is gospel, and everything Dad says and does can be ignored. That gives me the upper hand in reminding Dumpling he should keep his rod tip low so he can feel the slightest nibble …
… especially when we get to throw rocks at cars – which makes enormous metallic smack noises and with Pop urging us to further mayhem and to get wet, which is foreign to anything we've ever believed about adults – none of which know how to have fun as they never throw rocks at anything …
Which provides just the type of break from fishing so that we can drink Gatorade and eat "fart bars" and relax in the shade – and then try fishing some more on the way back …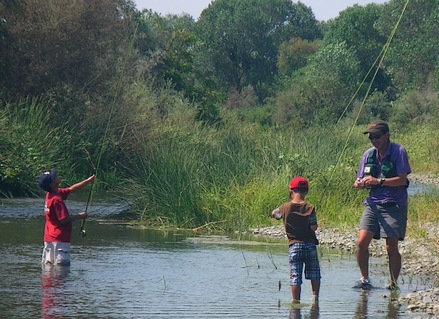 … where both proceed to cast their own rods, hook and land their own fish, and the smile on a proud poppa's face is a mix of relief and outright fun, suggesting the scene to be repeated many times over.
Eco-votes, baby – go get you some…