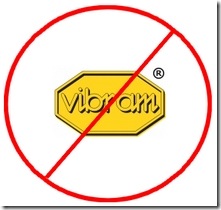 As mentioned this morning in Angling Trade, SIMMS has apparently pulled the plug on its self imposed felt ban, and will be making all manner of felt soled wading shoes for 2012.
Naturally we'll assume that's it's the suddenly decreased threat of Didymo that's the root cause of this change-of-heart, or it may simply be the recognition that angler behavior is the key to invasive species spread, and like prostitution, it's tough to legislate morality.
Me, I think their holy oath resulted in being spanked smartly in the retail aisle, given any discussion on rubber soles amongst anglers brings great froth, dissent, and much vitriol over their efficacy. Adding additional burden has been the lack of reliable information from shoes owners, given that the same boot is mentioned both as slippery, useless, and wonderful, depending on who's doing the pontificating.
One industry insider said it best, "Simms tried to score green marketing points at everyone else's expense, and after they largely succeeded, now want the brown dollars to go with them…"
Nothing like the potential for a downward slide of the sales graph to make folks rethink their commitment to the Pristine.
"We know felt is not the only material that has spread invasive species and disease," Walsh said, "but felt is surely part of the problem. At Simms, we've decided to be part of the solution."
The SIMMS "solution" being to orphan your current shoe, sell you a new rubber variant that is less reliable in slime, then have a sudden change of heart, hoping us anglers follow blindly and buy another set?
Fat chance of that happening, you've mortgaged what faith your public had already, Lumpy.
I say SIMMS should drop their shoe price by half, allowing us anglers to purchase two pair, which will allow us to be less infectious as we can swap wet for dry, and potentially restore some of that good will we once had toward vendors.
You can get some good will…  I love SIMMS already – due to the panic caused by their earlier announcement, I scored three sets at $40 when the shops unloaded all that tasty felt  …