The latest issue of Angling Trade brings together a number of articles related to the growing gulf between anglers, fly shops, and manufacturers, given that each is struggling to evolve and survive in the face of a double dip recession.
It's probably their best issue yet, but after digesting it from cover to cover I'm unsettled by some of the commentary.
Maybe we should all wake up and smell the coffee. It isn't about hair salons, or Costco, or even big box stores and direct sales over the Internet. It's about who really cares about fly shops, and who backs words with action. Any action. Think on that, and you already know who has your back, and who doesn't.
Naturally I've got my own ideas about how all this is supposed to work, and knowing that us taxpayers share an increasing frustration over posturing politicians, CEO's, and those that nearly bankrupted the economy, yet I'm still a little surprised that someone would think we owe anything to anyone that wasn't earned the old fashioned way.
Why does someone in this industry think I owe an underfunded childhood fantasy a decent living?
There's little to fear in a good Darwin-esque pruning of fly shops, and with the economy teetering on the brink of another possible swoon, my responsibility is to look out for me and mine.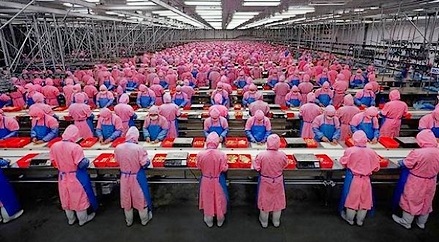 With a literate and professional clientele, one possible shakeout is reflected in the upheaval of the fly fishing media business. It's not so much dead tree versus digital as it is frustrated anglers realizing they can do a better job themselves – with an explosion of eZine's to back up that bold claim.
A dozen or so that I'm aware of – and probably a half dozen or so that I'm not, with non-existent costs and imaginary profits. They'll persist long enough to dilute the Dead Tree crowd a bit more – perhaps becoming the last straw for a few old timey companies, given the high costs of print, and leaving a few digital "labor-of-love-zines" that are the voice of some edgy niche, just to keep the print survivors honest.
While each of the Angling Trade articles speak to a separate niche within the overall industry, the common thread uniting all of them appears to be the question, "when is it okay to break the traditional specialty business relationship between manufacturer and shop to save your own arse?"
Evolution being impossible without breaking a few eggs.
The reality is I don't need Scott, Sage, Echo, Orvis, Hardy, Thomas & Thomas, Winston, Loomis, and all their ilk to keep me in fly rods. I could lose two or three of these hoary old brands and not miss a thing.
In contemporary graphite rods, the difference in their tackle is more marketing fluff than tangible feel – and it's been that way for some time – fly rods being like cars, with devotees and zealots devoted to their respective brands. Yet rod companies remain aloof, they never asked me whether I liked two-piece better'n three-piece rods, and now that you're hawking three deadening ferrules on a nine foot rod, I'm wondering what in hell they're thinking about.
In short, we share the same rarified levels of loyalty for one another …
Everyone is looking for an elusive, evil "middleman" so they can drive profits up finally drive costs down, but who is that shadowy guy, and isn't he the shop that you are telling ME to save?
K.C. Walsh, president of Simms Fishing Products, also
acknowledged that fly shops need to make a living. But, when some shops are selling gear that competes with his company's products, it does change the relationship somewhat.
So the big manufacturer's break with tradition and opt for the big box stores and go Internet-direct to the customer. That's been done before, it appeared to work for the old Fenwick business model in the Eighties, whose rods were the "Sage" of its day, yet were in every Big 5, most gas stations, supermarkets, and were the premier brand for the little niche shops.
Niche shops were robust with some crazy-good talent and able to distinguish their value-add from one another, more failed than prospered but that's always been true of small hobby markets whose proprietors fail to fund and plan their retirement livelihood.
Service has always been the key to success, especially so given the homogeneity of products from one shop to the other. The difference now is that so few of the old skills remain, it may be who can react quickest that determines survival. Dumping the jobbers and stocking their shelves the old fashioned way – knowing the product and where it exists in the wild.

In retaliation for being jilted, the small shops band together to make purchasing alliances and serving manufacturers with an extended index finger. Then they'll opt to leverage Asia as manufacturing juggernaut to purchase low cost shop-branded rods and reels, and import them to our shores along with millions of invasive species – complements of tainted bilge water.
"The minimums are usually around 250 rods per style. If you can justify that quantity, then you can buy your own private label from China."
The rod making space gets a bit more crowded given the shop-branded rods that reroute the bulk of the rod dollar to the middleman (whose now a rod company) and lacking the loyalties of proprietor and his legion of sales associates, and still stung at being jilted, the manufacturer stares damp eyed as the sales staff point to the cheaper rod, the in-house brand.
The Chinese make a pretty mean rod for $100 wholesale, and I should know as I own five of them already.
They'll ignore copyright law and the government will let them. All the marketing departments work to invent Superkalifragilistic-XP-alladocious Graphite with its ion-woven crystalline lattice, and how much better it is than any other graphite, they'll steal immediately. Given their steadfast ignorance of Bill Gate's Windows copyright (costing Bill into the Billions) just why do you feel you'll fare any better?
All the tackle will acquit themselves well, and should make enough inroads in the marketing hype to get their own measure of respect.
Which will buy the angling press a little time to grow a pair, given the past "nothing but superlatives" style of review we've had to endure. That self-same style adopted just as quickly by the eZines and bloggers so the river of manufacturer freebies flows unimpeded.
The shops aren't immune to Darwinian law by any means. Given the materials vended are from the same lackluster jobbers, whose rod selection is part shop brand and a few of the commercial variety, whose counter-men are amiable enough but don't distinguish themselves from the competition, I wonder why I'm expected to be fiercely loyal to some other fellow's underfunded job fantasy?
… and we should feel really good about it too, anything less is unpatriotic.
You've got every Spey and Switch rod ever made, but I don't do either.
You've unloaded all your Grizzly saddles to the salon down the street. Now that I'm darkening your doorway you shrug your shoulders in mock helpless.
I inquire about local conditions and now I'm trying to extricate myself from a full day guide trip, and a new rod, when I only wanted to know which flies to use …
Now guides have a way to cash in on their product expertise and client connections. Pro Guide direct (proguidedirect.com), an online retailer of fly fishing and other gear, offers 15% of a transaction to the guide who refers it.
… and all I've found is another SOB with his hand out.
A run of the mil shop lacking in personality and talent, that doesn't make an effort to get me to return – to "brand" their service as well as their tackle and other offerings, is owed nothing.
I can buy Twinkies anywhere, and they taste the same regardless of their source.
The Game hasn't changed only prices have
When rods were fiberglass and the Pfleuger Medalist was king, we were out the door for about a hundred dollars, and a full outfit with waders, vest and shoes, was about a hundred more.
Now, we've got $800 rods, $400 reels, $200 boots, $700 waders, and a full ensemble is the better part of $3000.
I'd say during that same period, the quality and breadth of most shops has eroded. A couple of movie-based surges in interest, more fish considered fly-worthy, an increase in tackle and the accessories commensurate, and the slow demise of quality staff, as the best of the best opt for guiding where the money is better than tending counter.
What cost only a couple of days pay is now a full month's paycheck, without a corresponding increase in shop service level. All this in an uncertain economy, where 20% of my neighbors are underwater on their house, whose child just graduated college at wants to move back in, just as they were about to mail their house keys to the bank …
Paradise is modestly priced in 2011 at only $1,995 per week.
It's a point that resonates in this economy and makes sales easier.
No, Bigtime tackle manufacturer, if you want to break with tradition and eliminate the middleman, you'd better be certain of your clever new business plan, because I'm not going to keep your shops afloat, I don't owe you or them a farthing.
Especially now that I've got two rivers I don't fish anymore – mostly because of the steady price increases finally caught the eye of the criminal element, and an empty rod tube in the front seat nets us anglers a broken window, the contents of our car rifled and quickly vanished.
No one bitched at Whiting after they bumped prices upward given the massive demand for hair hackle, in fact most applauded – making it one of the few success stories of recent times.
The rest of the industry won't be so fortunate however, they'll have to evolve less precipitously to ensure they don't anger too many at one time, or plunge the entire sector into a free fall price war.
But I don't owe the three shops in my area a damned thing, given the only thing distinguishing them is their parking.