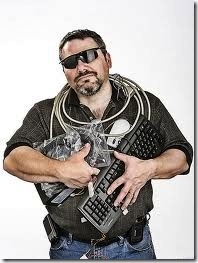 I can just imagine that old guide turning apoplectic as he explodes at the console, "I don't want to use no gawd … damned … computer, just gimme my gawd … damned fishing license …"
Sorry. In addition to seeing through off colored water and threading a #20 dry fly onto tippet, you may want to brush up on them precious keyboard skills …
The California Department of Fish & Game has embarked on a new process for getting your fishing license, and naturally they claim it's easier, faster, and largely computerized. The downside being that either you or the store clerk will have to enter all that data somehow.
I opted for an online transaction via their web site, with a menu of charges that resemble a fast food drive thru.
Rumor has it that it's a three inch wide strip of paper that can grow in excess of 64" long (depending on the options chosen) which will add a couple inches to your wallet when folded. The basic license is 3" x 7" and once you start adding ocean privileges, second rod, and all the other flavors it's been said the license can reach five feet in length.
My license is 3 inches wide and 7 inches long. The basic license cost was $43.46 and the second rod stamp was $13.53. As it was last year a Bay Delta Enhancement Stamp is not needed to fish the waters of the Sacramento/San Joaquin River or the Bay Systems.

I also decided to purchase a Steelhead Report and Restoration Card, which cost $6.48. Again the printer produced another light blue thermal copy, actually two separate pieces of paper both of which were 14.5 inches long. One was the report card itself again printed with my personal information on it, the other copy with instructions, examples and fishing location codes to report the water on which the steelhead were caught.

Needless to say if you also secured a salmon punch card, a sturgeon punch card or any other report card, you are talking about quite a bit of paper to be folded into a wallet.
… which was confirmed by an incredulous angler holding a handful of tickertape, along with all the new rigor associated with its purchase. If purchased as a gift, you'll need to provide all the data on the license to the counterperson, including their height, weight, eye color, driver's license number, and full address.
If purchased online at the Department of Fish & Game's website, you'll have to navigate a bit of poorly written HTML to purchase via credit card. At the final screen will be a downloadable PDF as a temporary license that will work for two weeks while you wait for the full license to be mailed you.
At issue is all the menu options and sub-licenses and how they all must be attached to the main license. It could be that they're meant to be separated  but that would be asking to forget one or more of them.
What's likely behind the new format is cost. Thermal paper is cheaper to produce than adhesive backed stamps on Tyvek, and printing it on a roll of toilet paper allows inexpensive Point-Of-Sale printers to be used. Governor Schwarzenegger hasn't been terribly friendly to Fish & Game and continues to ravage their budget, what you'd expect from a fellow that did all his recreating in a gym.
The new system requires vendors to purchase a DSL line to the Internet (which may not be possible in those out of the way locales) and while the DF&G are providing the touch screen console and printer, a number of shops have decided to stop selling fishing licenses entirely, as it's simply too much bother.
Remember that the temporary licenses (PDF's) printed on normal paper with ink or laser are not permanent – and standard 20lb bond will dissolve in water, so I'd suggest enclosing it in a license holder to keep it dry.
… then again, 60″ of folded 3 inch wide paper could prove indispensable in the woods …