Tough times are on us and if it's not on sale it's not a priority. Too many folks strapped with burdensome mortgages must make do with less, and the repercussions aren't limited to the the fly fishing industry, it's all industries, part of the Recession they whisper about in hushed circles.
We haven't had one in 20 years or more, for some this will be an eye opener, coupled with the decline in the US greenback and 4.5% inflation and your dollar has to work much harder.
Fly fishing is a niche sport, and while rich folks aren't likely to be affected, the rest of us will tighten our belts – with the obvious luxury of $800 rods and $500 reels, I expect to see the retail landscape get thinned considerable.
There's multiple reasons for what's coming, economics is the primary driver – but most fly shops are poorly capitalized and poorly run, compounding their burden. It's a labor of love for proprietors, not the "last man standing" predacious Capitalism common to larger industries.
The manufacturers won't help at all, their allegiance will quickly run to the "Big Box" stores in an effort to weather the coming storm, putting additional price pressure on the little fellow down the street.
So who'll survive? Not a simple answer, but two styles of shop should continue to tread water; the small destination shop that has all the flies for the local waters, and the canny fellow that leverages the Internet to broaden his customer base.
I'm thinking eBay is the biggest winner, and some startling facts are coming to light after spending the last four months researching this "e-tailing" auction behemoth.
"I'm more interested if they have clearance items," she said.
EBay is the undisputed King of clearance; it sells trash and exceptional items with equal ease. It boasts a friendly intuitive interface and allows unlimited sales without distinguishing between individuals and companies.
Hundreds of small fly shops make use of their auctions, a roughly equal mix of small seasonal destination shops and larger city stores. Most hawk their wares at retail prices, giving them a robust electronic "second market" or lengthening their season, making them independent of their locale.
So where does that new rod go after it doesn't sell? The same place everything else goes – eBay.  It's a potpourri of folks downsizing their garage, relatives selling Grandfather's estate, and "bricks and mortar" stores taking advantage of the ease to market interface – to dampen their toe in e-commerce.
It's the same story with last year's tackle, eBay represents an enormous outlet for clothing, sundries, and last year's graphite rods – it's the largest fly shop in the world, and many fly fishing manufacturers are assisting in a way that's not obvious.
New is better, and we're reminded constantly in the angling periodicals. 65 million modulus was last year – this year it's 73 million modulus, and if you have an ounce of decency – you'll buy two…
Clothing and rods change every year – and small retailers can't keep pace. Destination shops with a 6 month season – can't unload high priced tackle as easily as urban, year round, stores – who are struggling to sell $800 fly rods in a worsening economy, and have an additional obligation having to stock a "comprehensive" shop. Rods and "big ticket" items make only a small percentage of yearly sales, yet they command a lot of inventory dollars. The rapid evolution of models leaves the "bricks and mortar" vendors struggling with old stock and assimilating the latest "improved" models.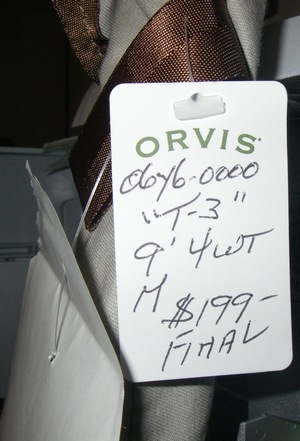 While the "little guy" struggles with low-margins and high-prices,  manufacturers dump their leftovers on the wholesale market. Freed of the burden of hundreds of last year's rods, manufacturers introduce next year's model, unleashing their advertising juggernaut with little regard for their traditional distribution chain.
It's the unspoken rule of the rod making community, ".. you will not undercut my pricing, and if you do we'll cut you off." It was the constant in my 20 years of fly fishing retailing, little has changed for the small shop today.
A shop's only price flexibility is when they build their own brand on manufacturer's blanks.  The occasional demo rod can be sold as it's been handled, but margins on prebuilt rods are paper thin, making the smaller stores especially vulnerable to the whim and timing of manufacturers.
"Cosmetic Seconds" is a unique practice and not all vendors offer "blemished" rods. In the past it was limited to "warehouse only" sales or special events at the maker's premises; that's changed with the electronic marketplace, it now boasts a multitude of sins and advantages, and a canny angler can be both stung, and count coup.
Many eBay vendors boast of such deals, it's more than rods and tackle, it's dishes, hunting knives, and car tires. Rods are a microcosm of the larger practice.
A cosmetic second is a rod that's passed the inspection of the blank, is structurally sound and is wrapped and fitted for sale. Either the final fit incurs a blemish on reel seat or cork, or the finish has a flaw that prevents the rod from passing final inspection.
It could also be a rod produced and not sold, excess inventory at the manufacturer's facility – and is a real liability in an industry that does not allow drastic price reductions to dispose of leftover models.
I contacted Echo, Scott, Orvis, Winston and Sage, hoping for information that would illuminate this process better – but only Winston and Sage responded. Orvis acknowledged the missive but did not respond.
Sage was characteristically terse, "We do not sell any blemished or second quality blanks or rods."
Winston elaborated a little: Our policy is that we do not sell "Seconds" or "blemmed" rods. Each person who handles and rod is empowered and expected to stop production of the rod when a problem is found. For example, if a builder notices a blem in the finish of a tip section they will not use that section but rather destroy it and get a different section. At that point they will ferrule the rod out and then send it to the next station. Then the person at that station inspects the rod. If all is good the rod continues through until it ends up in inventory. The goal is for every rod in inventory to be perfect.
Neither vendor distinguished between the "factory second" and excess inventory, nor could I find evidence that they wholesale excess product on eBay.
Surprisingly the Orvis Company of Manchester, Vermont is the largest contributor to the eBay phenomenon. Because of the volume of items and vendors found, it suggests this is a significant source of income – and a method of employing a "big box" style distribution chain without owning it publicly. It allows them to remain above the fray – retaining their "little store in Vermont" image – while undermining vendors that must sell their product at strict retail.  
I've researched the feedback logs of a half dozen Orvis resellers, who combined have sold nearly 50,000 Orvis items since January of 2008. The bulk of their sales are the seasonal clothing Orvis sells, but among their totals are more than 2000 Orvis rods, thousands of Orvis fly lines, flies, and all the terminal tackle necessary to equip a couple regiments of hardened fly fishermen.
The rods are selling briskly, averaging 22-25 per week, and I can't think of any fly shop that does that kind of volume anywhere. In these declining economic times, I'd think some of the existing Orvis dealers would want a shot at this profit cow.
Last year's Orvis rod, a discontinued model or cosmetic second, starts it's eBay life somewhere between $90 and $250 – a tasty bargain for a $600 flyrod. The trout models usually end up selling for about $180 (includes postage), and the larger line size rods (greater than AFTMA #7) sell for slightly less. Current rods sell for a higher premium than older tackle, despite one rod being only 6 months older than the other.
All the Orvis series are available with the exception of the latest rods. The Orvis "Helios" is available from many fly shops with storefronts on eBay, all offer them at traditional retail prices.
"Zero Gravity", "T3", "Green River", "Clearwater" and "Silver Label" rods are available from wholesalers, but despite selling many hundreds of the rods, their selection is incomplete. This suggests "excess inventory" offloaded to jobbers rather than Orvis's systematic use of a new sales channel.
Scientific Anglers and the venerable Hardy of Alnwick appear to use a similar mechanism, though neither is a mainstream US vendor – Hardy is based in the UK, and Scientific Anglers has all but left the high-end rod market, relying instead on their fly lines for the lion's share of revenue.
A canny "e-tailer" likely starts the auction near their cost, within 15-20% of what's paid the manufacturer. They have a steep discount because the manufacturer is motivated, get a break for buying in bulk, and get to charge higher than normal postage, a huge revenue stream for eBay vendors, with many charging $20 or more per delivery.
With little detail other than auction prices, I'll assume the vendors are paying about $80 for each Orvis high-end series rod, with the price ratcheting downward based on series – and their target demographic, entry and mid level anglers.
eBay empowers the seller with only two tools; the "Buy It Now", and the traditional auction format. Auctions are typically seven days duration, with  hopeful anglers driving up the price. There's little consistency other than the final price, as many retailers start their rods at 99 cents, playing havoc with my guesswork.
Pricing for Zero Gravity, T3, and the Trident TLS series typically started at $99, Silver Label around $75, and the Clearwater, Green River, Streamline rods at $20. The implication is the manufacturer is selling the rods to the wholesale vendors to recoup their materials, fittings, and labor, and generating profit – it's a canny operation, but it's likely to cost them later.
In my opinion, Orvis has provided a glimpse of what today's rods cost to make. A pristine rod ($700) may yield around $595 profit, allowing for a simplistic calculation based on a $20 aluminum case and linen rod sock. That's a 566% profit margin. For a niche industry like ours that's required – you can't sell millions of them – there's not enough millions of us.
It reaffirms my "old guy" sensibilities that no contemporary* rod is worth more than $200, and thanks to the miracle of e-commerce, I can guarantee I pay a lot less than those that do.
Stay tuned for Part 2, wherein we look at the Big Boy's of Orvis's eBay vendor community, their auction practices, and how to score a $600 rod for a quarter of the price.
* Contemporary rod is defined as a mass produced rod from synthetic materials, spat onto a sheet of waxed paper, rolled under intense heat and pressure like a Twinkie, then fawned over by fanbois'.
Technorati Tags: ebay, Orvis, Sage, Winston, Echo, ecommerce, canny business