As I paused to wipe the mud from my eye, I remembered all those glossy fly fishing spreads depicting the Test and Itchen, their manicured banks, and the stream keepers who trimmed weed beds and mowed pathways to the wading pools – in full tweed.
What the magazines failed to show was those same stalwarts having to endure his Lordship's boorish house guests, or worse, rented "beats" to the nouveau rich so that they might make sport of ceremony, proper field attire, and insist on clubbing the life out of anything brought to hand.
My home water is the opposite of all that chaste decadence, and its roman-nosed "peasants" are as needful and hungry as Salmonids, only they lack the social graces of mingling in deep water, preferring to pounce from ambush rather than a frontal assault.
In even shorter supply are those wanting to tend to public lands to ensure all those "peasant" fish are as pampered and pedigreed as their silvery cousins, and why my sanity is in question.
Trimming weed beds being a noble pursuit, but it won't cleanse the sin of all the fish kilt in your youth prior to your conversion to catch and release. Only helping fish or improving the watershed can erase that stain. I consider it payment on the Karmic Debt incurred by your super-consumer self – by ensuring what few fish that survived your youth are now bloated and obese ..
It was the rumor of a dwindling watering hole that was home to a massive frog population that set events in motion. Frog being an essential protein to my fish, and the notion that several hundred pounds of that delicacy was liable to expire with the receding water galvanized us into activity.
I figured the game warden would frown on the proceedings, simply because Fish & Wildlife are devoted to the "high dollar" piscatorial fisheries and lack the funds or the desire to assist "peasant" fish. Their rationale would likely involve anything moving from one pond to another may introduce something unwanted – despite both being man-made and neither being connected to any waterway, and they'd let the entire lot expire out of their scientific version of Political Correctness.
With only a couple of long handled nets we were able to retrieve several thousand frogs and pack them away for relocation. In addition to the frogs, the act of scraping the bottom of the pond also yielded thousands of trapped dragon fly nymphs, water striders, pond beetles, and water boatmen, all suitable table fare for the bass that would be beneficiaries.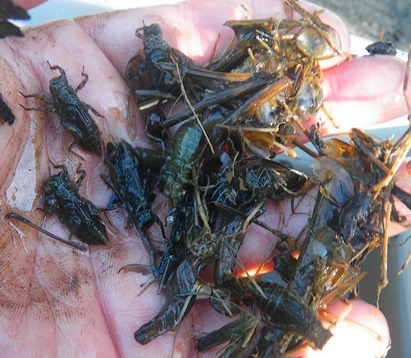 I'm sure the egrets and herons were much disappointed on their return, but both birds enjoy a following of marsh organizations intent on promoting their well being – and can afford to lose the occasional battle for groceries. I didn't feel any remorse in removing most of their trapped food supply.
After transporting all that protein to permanent water, I had the pleasure of releasing handfuls of squirming wildlife into every nook and cranny that lined the bank. Once freed, most burrowed into grass, wood piles, plant debris, and anything else that would shield them from predation. I was careful to spread them over the backwaters of a 15 acre impoundment – rather than empty the cooler into the deep end and watch the ensuing festivities.
Knowing that I've added many unwanted pounds to the native fish is liable to make me restless all Winter. Naturally I'll have to exercise those fish thoroughly next Spring – via popper and handful of Gink.
I think I can live with the guilt until then – but am running low on Olive Deer hair …