By KBarton10 on May 19, 2013 in Fishless Fishing, Fly Fishing, fly fishing humor | 2 Comments
Despite three fruitless trips and stinging only a single fish, I'm confident that Shad Fishing Died for Your Angling Sins.
A long winter of tying drab and dull, your "light" reading a mix of dusty tomes featuring metatarsals and pronotums, and you've exhausted both social venues and social networking and are conspicuously absent any cocktail invitations.
Your banter is free of celebrity gossip and your brow furrows over the finalists on American Idol, you're prone to mumble, and coupled with a fetching hint of mothballs from your only sport coat, you can't sustain eye contact with a nervous hostess as you can't tear your gaze from her fish tank.
… and after months of isolation with Internet forums and that aging stack of fly tying magazines by the Crapper, you've bought their false prophets and notion of the One True Sport.
Trout fishing.
Replete with its aromatic tobacco, dimutitive flies, expensive tackle and long stemmed glassware, practiced by those strong in the ways of credit card debt.
You're insistent that a large gold bead on your nymph has a parallel in Nature, a pre-emergent pronounced thorax, and while you struggle to pronounce "4mm, slotted, and Gold" in Latin, are just as insistent nymph fishing requires a floatational aid to make it more like Dry Fly fishing, elegant, gentlemanly, eliminating guesswork and a couple centuries of nymph fishing lore in the doing.
"Fling and swing" replaced by an upstream presentation, and should some timorous fellow suggest it reminiscent of the Unclean Sport, bait fishing, it's an "Indee-kay-tor" versus "bobber" and how dare he insinuate otherwise …
… and now that darkened basements and the shameless exploitation of furbearers is out, your fascination with the "bug-like" thing is no longer quaint or charming, rather you're linked with pressure cooker enthusiasts and egghead Chechnyan separatists. Our former, "ill at ease" with joggers and the cyclists suddenly an unpopular legacy now that BB guns and our leftover tins of black powder are under a societal microscope.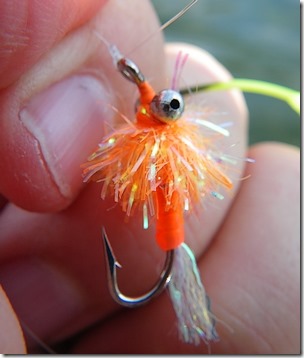 In contrast, Shad is the festive "Other White Meat" fishery – like Bass and Carp, a landscape where periodicals fear to tred, and its practitioners have firm sweaty handshakes, buy their rods on EBay, fashion their flies of Christmas tinsel, and non-tapered monofilament …
… that's "mono-fila-ment" not "fluoro-carbon" – only asshats and Momma's boys fish $22 tippet …
Empty beer cans line our rapids, castoff underwear festoon the brush and drunken college students holler encouragement as they wallow through our tepid water to throw up somewhere downstream. Shad fishermen embrace society and its many foibles rather than flee to the upper elevations and its gentrified antisocial notion of Pristine.
Shad fishing being the Mardi Gras of fly fishing, with brilliant tinsels, florescent, opalescent, and iridescent, mixed with chrome hooks, shiny toilet chain, gleaming gold beads, ALL designed to act like split shot and sink our fly like a leaden sonofabitch.
There's no extended pinkie in our fishing, no privacy, no hushed bank of spectators intent on watching some fellow melt into hysteria when his BB shot and non-biodegradable bobber loop fetchingly around a distant tree branch. Neither do we complain about updrafts when explaining why our fly is imbedded in our arse cheek, or tree branch behind us.
Instead we hear the big gaudy SOB whistle towards us and duck while giggling mightily, knowing we've cheated Death – and how that interloper wading in behind us won't be so lucky …
A tepid water introduction, compliments of a sharpened treble …
Shad fishing is for people that count fish, that club baby seals, that wax eloquent at the prospect of laying waste to hundreds of His creatures, who would rather torture and maim than kill and eat cleanly.
Our fishery, as brash and sordid as it may sound, doesn't require us to tiptoe around concerned about we brought with us, what may have hitched a ride from our garage unbidden … we're reticent to get into our water more afraid of what we're about to step in …
A Fish so boney and unloved as to have never been eaten, never considered for table fare, and never commercial grown for anything other than fertilizer. Yet despite its peasant nose, wild, sea run, and having the pedigree of sport fish prized the world over.
Beats hell out of a fish spat "wildly" from the end of a hatchery nozzle, that dines wildly on floating plasticine dough or dyed salmon eggs –whose misfortune it was to he "shat" into water at elevation – and therefore conferred "wild" like a second virginity.